Broaden your horizons with the Epson WorkForce Pro WF-4820DWF A4 Colour Multifunction Inkjet Printer. Ideal for home offices or as desk printers, this Epson WorkForce Pro will create high-quality prints without compromising on price.
Brilliant wireless solutions

Enhance your office's connectivity with the innovative wireless solutions from Epson. With the WF-4820DWF model, you can connect to your printer via USB, network connections, wireless, and WiFi direct, offering you diverse printing solutions. Epson's free mobile printing app will also allow you to email print and scan to the cloud, helping you print from anywhere in the room. Compatible for both Mac and Windows, the printer's interface is accessible to use via its 10.9cm touchscreen.
Cost-effective multifunctions
Save time and space on multiple machines with the WF-4820DWF model. With this machine, you can print, scan, copy, and fax all in one place, enhanced through its connectivity to the mobile app. Improve your productivity and minimise your outgoings in the process, with Epson's affordable cartridges. Each XL cartridge delivers up to 1,100 pages*.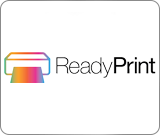 What is ReadyPrint?
Whether you print a little or a lot, full colour photos or simple black and white documents ReadyPrint has a plan to suit your print style. Epson's great value plans ensure you'll never run out of ink again, with automatic delivery of new ink delivered direct to your door. Simply choose the plan that suits your needs and enjoy print freedom with ReadyPrint. Epson ReadyPrint Flex works with Expression Home or WorkForce printers. You can also swap between the flexible print plans at any time.
High-quality prints
Industry professionals need high-quality printing. With the automatic double-sided printing from the WF-4820DWF model, you can experience the exceptional quality of up to 4,800 x 2,400 dpi resolution. Benefit from Epson's PrecisionCore printhead, producing a quality likened to laser printers. You can profit from high-resolution documents on a time frame that works for you. The WF-4820DWF can print up to 22 colour pages per minute (ppm), and up to 36ppm for black and white documents. For even the most demanding office space, this printer is the ideal solution.