The Xerox VersaLink B405DN provides businesses of all sizes with a space-saving all-in-one printer which combines high-speed network printing performance from PC, Mac and mobile devices, with all the capabilities of an enterprise grade printer.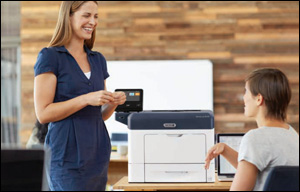 Versatile high-performance multifunction printing
The Xerox B405DN can print and copy monochrome documents at speeds of up to 45ppm and offers a duty cycle of up to 110,000 pages a month. That makes the B405DN suitable for busy office environments that require high-performance printing on a budget.
Built for speed and efficiency, the Xerox B405DN offers a 550 sheet paper tray as standard, which can be expanded up to 2200 sheets with up to 4 extra 550 sheet trays if required. There is also an inbuilt 150 sheet multi-purpose tray suitable for envelopes and compliment slips.
You also get high-speed network connectivity as standard. The B405DN has 10/100/1000 Base-T ethernet connectivity along with NFC Tap-to-pair for mobile printing and USB 3.0 for direct PC to device printing.
One of the best things about the Xerox B405DN is the number of print options it offers. It really does bring enterprise level printing capabilities within reach of most small businesses. Advanced print options include booklet printing, draft creation, skip blank pages, two-sided printing, scaling, secure printing and job identification, making it suitable for even the busiest office environments.
The B405DN also provides full support for Apple AirPrint™ and Print services for Android™ and it can be combined with an optional Wi-Fi kit, giving it a full range of connectivity options suitable for offices in the 21st century.
Xerox Earth Smart for environmentally friendly printing
The Xerox B405DN is environmentally friendly as well, coming with a range of green settings which can reduce the amount of paper, toner and energy required. These Earth Smart™ options include setting sample sizes to test the output of large print runs before implementing them. Page reduction reduces the amount of toner required for each page and use double-sided printing for reduced paper usage. You can even choose to reduce image quality on certain documents to save toner.
All these settings can be fully configured by you to ensure your business gets the highest quality print output while using the least amount of consumables and energy as possible. When combined with the incredible value this printer offers, you have one of the most cost-efficient high-performance printers available on the market today.