Xerox VersaLink C400DN in More Detail
Built for the productive office, the VersaLink C400DN is designed to grow with your business. With print output at speeds of up to 35ppm, tap to pair mobile connectivity and a maximum 1,250 sheet paper handling capacity, the VersaLink C400DN is the powerful print solution you need for a pressured print environment.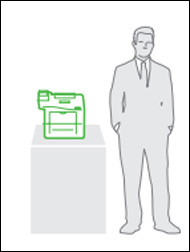 Improve your brand image with exceptional colour print
With first print out times as fast as 13 seconds, you'll be productive as soon as you hit print. Genuine Xerox EA toner produces prints that will make your brand stand out, with accurate reproductions of your branded materials including logo and letterheads. At a maximum, crisp 600 x 600 x 8 dpi quality, you'll produce vibrant images, razor sharp text and high definition in fine details whether you're printing brochures or presentations. The VersaLink C400DN used with EA toner ensures your documents look their best and protects your investment in Xerox technology.
Exceptional ease of use
With straight out of the box connectivity thanks to installation wizards and Xerox's fleet of user friendly apps, the VersaLink C400DN is designed to improve efficiency and workflows in the office. Connect with ease to a range of mobile print solutions and enjoy the flexibility to print from your Android and iOS devices from anywhere, thanks to onboard Apple AirPrint and Xerox's Android print plug in. The intuitive 5 inch touchscreen is optimised for a user friendly 'mobile' experience with familiar tap, swipe and pinch behaviours.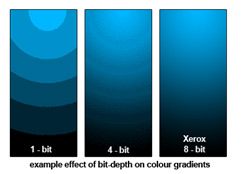 Reliably Smooth Printing
The Xerox C400DN has a powerful print resolution of up to 600 x 600 x 8 dpi – but what does this realistically mean for your business and how does this itself translate into remarkable results for your brand? Put simply, the greater number of bits used by an imaging system, the more grey levels available for display.Subsequently, due to the Xerox C400dn using impressive 8-bit Images, you have 256 shades of grey to ensure your business is able to capture even the nuances in colour that create a beautifully finished print out! The benefits? The more grey shades that a printer uses the smoother and more flawless the gradient of colour will be, eradicating any banding or visible stepping of colours that printers using a smaller bit depth suffer from. Don't be a victim of unprofessional prints giving the wrong message to your customers, use the Xerox C400DN's 8-Bit Depth and ensure your investment never fails to produce accurate, expert prints.
Xerox sustainability
Used toner cartridges can be recycled through the Xerox Green World Alliance, while features like duplex printing as standard and Xerox's Earth Smart Driver Settings will reduce your energy and media costs while minimising printer waste.