From the moment it is installed, your Xerox Versalink printer is designed from the inside out to be a reliable and consistently high-quality machine. It is built using fewer parts, while utilising a superior paper pathing system plus Secure Print to save printing tasks in case of loss of power. Added to software made for a hassle free experience straight from installation, and through the various configuration options, the Xerox Versalink was made to make your business day effortless.
High-Quality Colour Quality, Production And Utility
The Xerox Versalink C7000dn packs immense production quality, with up to 1200 x 2400 dpi (dots per inch) per page printed and up to 35 pages per minute in both colour and black and white. With additional options such as double-sided print and multiple paper insertion options, the printer delivers consistent, reliable quality in whichever way you need it to be.
Connect To Your Entire Business
Everyone that needs to access your printer, from individual users to offices, can use the Simple ID system to access and manage their printer jobs on their own personalised home screen. Whether your workers are in the office, off-site or even on mobile, the Versalink C7000dn is accessible with Apple AirPrint, Mopria, Xerox Print, Service Plug-in for Android plus numerous other options for connectivity including Wi-fi options. Added to that the option to connect to services such as Google Drive, Microsoft OneDrive and Dropbox and more besides, and you have a truly interconnecting printer capable of serving your business and workers no matter where they are.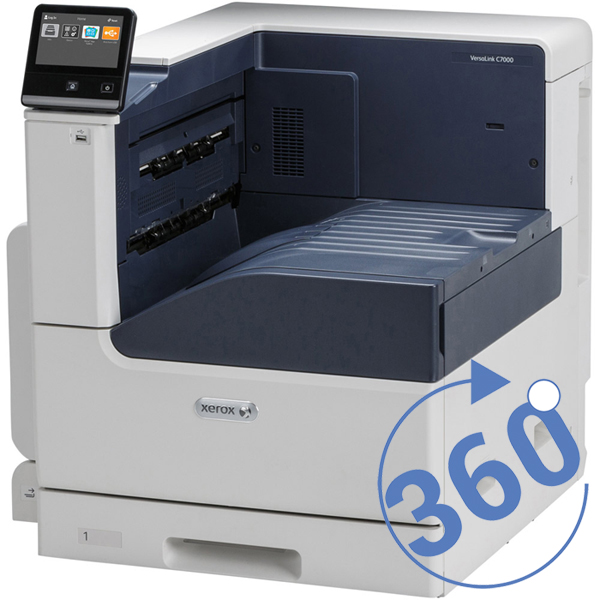 Eco-Friendly And Well Supplied
The Versalink C7000dn is at the forefront of energy saving technology and has worked with Energy Star, the most successful voluntary energy efficiency movement in the world, to supply a more efficient printer that is better for the environment. In order to save you time and energy as well, the printer also comes supplied with black printing cartridges for 5300 pages of print and colour cartridges for up to 3300 pages of print each*